CONGRAULATIONS!  You did it!   
Right now, we want you to go through your home and take pictures of the different rooms.  It doesn't matter if it's a mess, these pictures are just for you.  The best way to do it is try to capture each corner of each room, like this picture of Deb's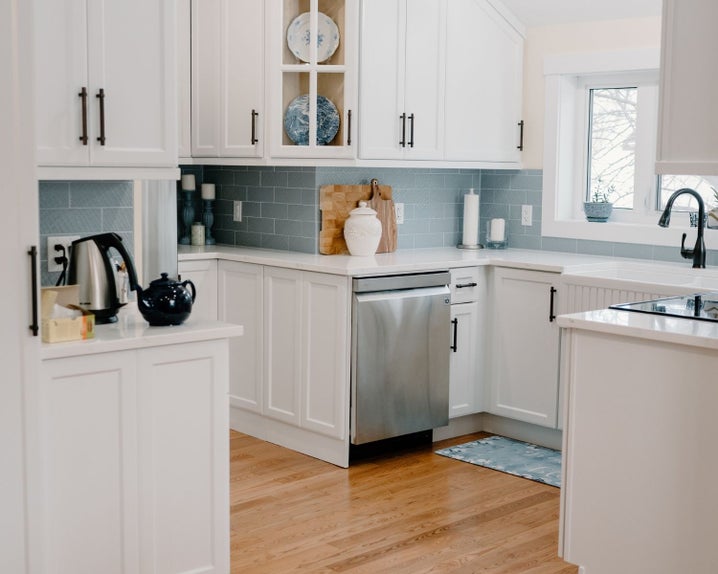 kitchen.
Ok, go!
We'll wait ;)
Ok, have you taken the pictures?  Fantastic!
Now, look through each room IN THE PICTURES and pay attention to see if anything looks like it doesn't belong.  When you look at your pictures, you're looking at the room as you would look at listing pictures - not like it's your home environment.  Now that you've painted your home in a bright, neutral colour, is there anything that stands out or doesn't belong?  
When Brooke listed her house a couple of years ago, Deb came and took the pictures.  Everything looked great except for this oak sofa table that Brooke had - everything else was light and airy and the oak table stood out like a sore thumb!  They ended up re-taking the pictures once they got it out of there.
So the theme of this week is Furniture, Decor, and Cleaning
When it comes to furniture, you're already planning on moving, so buying a new couch isn't really cost effective since you won't know if you'll like it in your new space. If you do have that info and really want to put that new chaise lounge in the corner - go for it!  But what we are touching on more today is if any furniture does NOT belong in a certain room, and the placement of the furniture.  
Maybe the armchair would do better in a bedroom in the corner, the bookshelf would look better in the basement, etc.  If your furniture is really big, maybe only having the couch and an armchair would make the room look more airy, and put the loveseat somewhere else.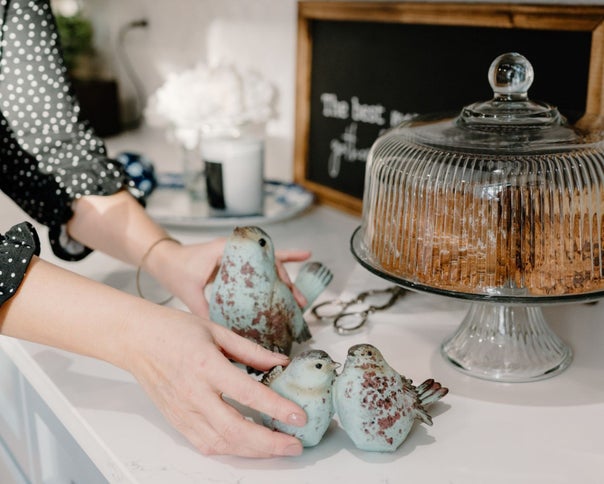 We are excited to tell you there is now a home stager here in Prince Albert, and she does consultations for you to help you with this kind of thing.  We are also excited to tell you that if you list with Heart and Home, we will cover the cost of this consultation for you!  Sometimes all it takes is rearranging some furniture or moving some artwork for everything to fall together, and that's what she does.  If you are interested in this or want more info, please don't hesitate to give us a call!
So... here are some ideas/questions to ask yourself as you go through your pictures:
• Different wood tones in the same room... do they go well together?  Or would they look better in different rooms?
• Does every room look as big as it can, or is your furniture so big it makes it look small?  Could you move something out to make the room seem bigger?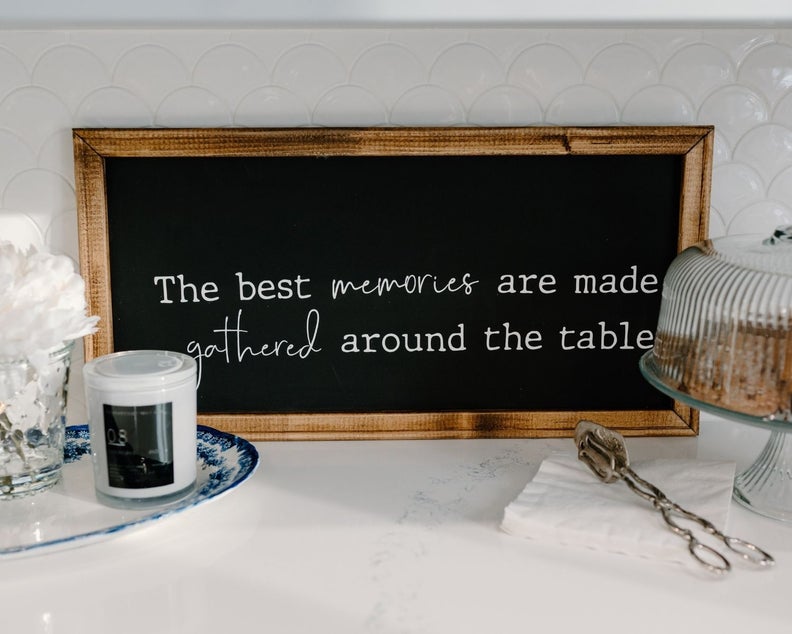 You've de-personalized, so now it's time to bring out some art pieces and tchotchke (home items).  You want to get art that enhances the light, airy feel of the room and place the decor items into small vignettes (groupings).  Arrange these items by layering them to add depth and appeal, and use different heights to make a cohesive look.  A sign or a framed picture propped up can add some height and coziness to the area, as seen in this vignette.  
You don't want to have so much decor that the space seems cluttered, but you want to have enough that it warms an area up.  It can be quite a balance, so the key is to work on this more than one day.  Set up a couple of vignettes, and then see if you like the arrangement still in another day or two.  Think of this as play time, you don't want to overthink it!
You've purged.  You've packed things away.  Now is the time to get out your cleaning supplies and give your home a good scrub, you want everything to sparkle!  Light switches, thermostats, the doorbell... anything that is attached to a wall that you are used to seeing should get a good clean.  A home that is clean and sparkling always presents very well and leaves a great lasting impression!
This week's task is very unique to each home and style.  But looking through the pictures you've taken of your home (versus just looking at the room as you're in it) will really help you have a third person perspective.  This is a great time to have someone come by and be honest about anything they notice - but of course, a home stager and/or having us there will be your biggest benefit.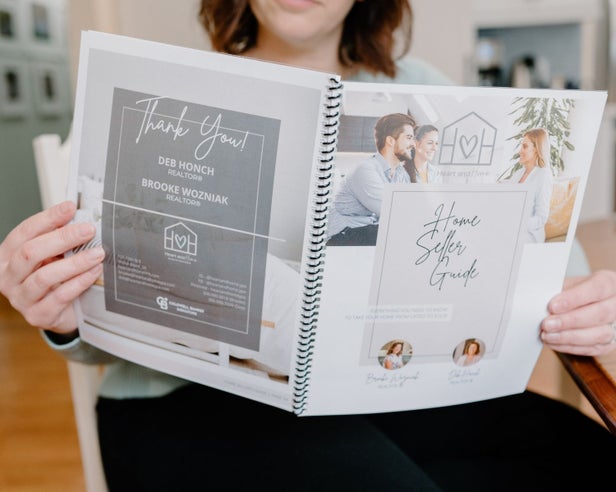 Ready to list?  Give us a call!  We'd be happy to have Shauna come and help out, and we'll also give you a copy of our Home Seller's Guide that is chock full of info, including a wonderful checklist for before pictures and showings!  
And if you're not ready to list, you can kick back and enjoy your clean, clutter-free, picture-perfect home!  
Thanks so much for participating in this challenge with us!  We have more coming up for you, so stay tuned!